Residents
WELCOME TO YOUR CHAD HOME: Dreams Live Here!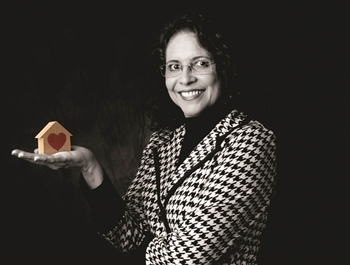 GENERAL INFORMATION: CHAD has been providing affordable housing at below market rental rates since its founding in 1983. CHAD offers a wide variety of rental housing options to accommodate, family size and individual needs, including apartments, townhomes, duplexes and single family homes. The majority of these properties are located in DuPage, Kane and Will counties in Illinois. Please refer to the Applicant Resources section for detailed information on available rental properties and the application process.
Maintenance of Properties
As part of its mission to provide quality affordable housing, CHAD regularly maintains and/or upgrades its housing units to comply with local building codes as well as to make them attractive to its tenants. In some of the older developments, CHAD has renovated kitchens, bathrooms, installed new flooring, cabinets, windows and doors and replaced energy inefficient appliances. We plan ahead for this type of work and will advise tenants in advance of any renovations planned.
CHAD residents also have the responsibility to maintain their units in a safe, clean and orderly manner according to the terms of the lease. CHAD reserves the right to charge fees to tenants for damages or cleaning beyond normal wear and tear and when the resident is the direct cause of the repair. Any such charges will include the cost of materials plus labor. Please contact a CHAD Property Manager for more information on fees for cleaning and repairs.
Safety
CHAD participates with local police in the towns and villages where it maintain properties to deter illegal activity. The result of this team effort is a safer, more habitable enviroment in which to live. All residents are required to sign a Crime Free Housing addendum to their lease prior to moving in. The addendum mandates that CHAD residents, any occupant of the resident's houshold and any persons invited onto the residential premise by the residents or many member of the resident's family, shall not engage in any criminal activity on the premises or property including but not limited to:
Any drug related activity
Soliciation (sex-trade workers and related nuisance activity)
Street gang activity
Assault or threatened assault
Unlawful use of a firearm
Any criminal activity that threatens the health, safety or welfare of the landlord, other residents or persons on the residential property or residential premises.
Rent Payments
Rent is due on the 1st day of each month. A late fee of 5% of the balance will be assessed if the rent is not received by the close of business on the 5th day of the month. CHAD does not accept cash as payment for rent. Rent may be paid online or via personal check, money order or cashiers check. We DO NOT accept cash. A rent drop box is located at the CHAD office at 531 E. Roosevelt Rd., Wheaton, IL.
Lease Renewals
The lease renewal process begins 120 days before the lease expiration date. At 120 days out, the resident will be notified of an HQS property inspection. The inspection will occur in the time frame of 120-90 days before the lease expiration date. Should the unit pass the HQS inspection, the resident will then be notified, at 90 days prior to the lease expiration, of the requirement to re-certify income and household size. At the appointment, the leasholder(s) will need to bring proof of income documents for each adult in the household that earns an income.
Several factors will determine if a resident's lease will be renewed including payment history and the results of an HQS inspection. If a resident is not current on their rent, then they must pay all past due balances before the lease will be considered for renewal.
Changes in Number of Household Members
To add children to your lease: Please notify your property manager if you have had a baby, adopted a child or received legal custody of a minor under the age of 18.
To add an adult to your household: The adult must meet eligibility criteria before being allowed to moved into your unit. All adults must complete a Rental Application and pass a criminal/credit background check.
To remove a household member: Please notify your Property Manager if a household member is moving or is absent from the rental for greater than 30 days.
Housing Quality Standards (HQS) Inspection
HQS inspections are a requirement of the US Department of Housing & Urban Development (HUD) to ensure that housing is "decent, safe and sanitary." Housing Quality Standards establish minimum quality criteria necessary for the health and safety of program participants and are required both at the initial occupancy and during the term of the lease.
HQS inspections are conducted at least annually by CHAD staff to ensure that potential and current CHAD housing units meet the minimum performance and acceptability criteria and to determine if residents are maintaining their units in a clean and orderly manner.
CHAD Management will provide residents with a minimum 48 hour notice when scheduling an inspection. Inspections will be conducted on business days during normal business hours. Residents are not required to be present during inspections but are encouraged to be there. HQS deficiencies, in which the tenant is responsible, must be corrected within a reasonable period of time, depending on the circumstance. CHAD staff may elect to do a reinspection to verify that deficiencies caused by the tenant have been corrected. If corrections are not made, CHAD may issue a lease violation and/or a non-renewal notice.
Transfers
Please note: At this time, we are not accepting In-House Transfers requests. Some exceptions may apply.
Residents may transfer from one unit to another for any reason provided they have been a resident for at least one year, are in good standing with CHAD and have no outstanding debts or rent in arrears. The resident must also be able to afford the rent on the unit they are interested in transferring to. Transfer requests will be accepted if the resident and all members of the household still meet the basic eligibility requirements for affordable housing and all the basic transfer eligibility criteria, as noted above.
If the resident is requesting a transfer to another unit mid-lease, the resident will be required to pay a $500 transfer fee. If the resident is requesting a transfer to another unit at the time of lease renewal, no transfer fee will be applied.
Insurance
CHAD only insures its buildings, not the tenants personal belonings, such as furniture, clothing, computers, and electronics. Therefore, we recommend that our tenants purchase renters insurance coverage to protect themselves from a large monetary loss that could happen in the event of an unfortunate disaster such as a fire, theft, tornado, flood or other catastophic event.
Renters insurance, sometimes referred to as an HO4 policy, can provide the financial protection you need in case your possessions are destroyed or stolen, as well as liability protection if someone is hurt in your dwelling. Personal property includes items such as furniture, electronics, computer equipment and clothing. According to Independent Insurance Agents & Brokers of America, the average cost for renter's insurance is about $12 per month for $30,000 worth of property coverage and $100,000 of liability coverage.
Your personal property will generally be covered if it's affected by any of the following:
Fire
Smoke damage
Theft
Collapse of the building due to weather
Water leakage or overflow
Freezing of plumbing
Before you shop for renters insurance, take an inventory of what you own to decide what level of coverage makes you comfortable. Then, get a renters insurance quote and choose the policy that's right for you.
Resident Newsletter
CHAD publishes a quarterly newsletter for its tenants pertaining to ongoing maitnenance, special events and other newsworthy items.
Support CHAD
Please help provide affordable housing to more than 1,100 people each year.