Find a home
OPEN HOUSE - JOLIET
522 Bellarmine Dr. #7 Joliet IL. 60436
Wednesday, October 4th, from 9am - 2:30pm
Come visit us at our Open House on October 4th, between 9am - 2:30pm!
Don't miss the chance to view our available Bellarmine properties in Joliet and receive information about our Application Process!
*** The CHAD Office is open by appointment only ***
To apply for a CHAD rental opportunity, click on the "Application Process" link on this page for more information. Printed rental applications are available upon request by emailing applications@chadhousing.org.
All meetings with CHAD staff are by appointment only. We do not accept Walk-in visitors. Please call the appropriate CHAD Staff member for an appointment. The CHAD office phone line (630-456-4452) provides prompts to reach the right person. Please check our Holiday schedule on our "Contact Us" page for office closure days.

Please stay home if you are sick or have symptoms of being ill. If you, or someone in your household, are ill, do not schedule an appointment at CHAD's office until the illness has passed. CHAD is committed to helping reduce the spread of illness to you and to CHAD staff.
CHAD is a licensed Real Estate Corporation in the State of Illinois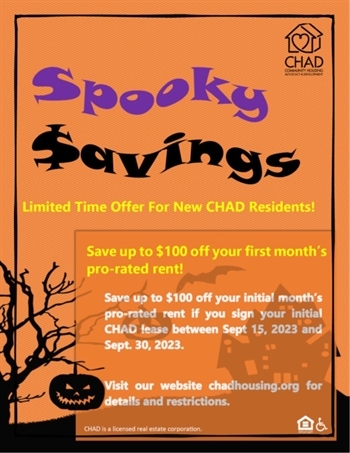 Spooky Savings – 2023 Special – Details & Restrictions:
Applicants signing their first CHAD Lease can be granted up to $100.00 off their initial month's rent amount if the Leaseholder(s) signs their CHAD lease between September 15, 2023 and September 30, 2023. This offer will appear on the lease as a "Lease Bonus" reflecting an amount of $100.00 or less to be applied to the Leaseholder's initial pro-rated rent due. If the tenant's initial pro-rated rent due at the lease signing is less than $100.00, the tenant's initial pro-rated rent amount will be applied of equal value as the lease bonus. Applicant(s) must sign a lease and all applicable addendums, pay all move in fees due, start necessary utilities, and have keys at the time of the lease signing appointment, in order to constitute as a new move in/initial lease. Transferring residents and previous CHAD residents do not constitute as new residents. Renewed leases do not apply to this offer. If the credit does not reflect on the CHAD account, there is no credit applied. Additional restrictions may apply upon review.
All properties (53)
NA More info »
NA More info »
NA More info »
Units feature vertical blinds, dining room combo with living room, air conditioning, dishwasher, storage, ample resident and guest parking, and a... More info »
NA More info »
Resident pays electric. More info »
NA More info »
NA More info »
NA More info »
NA More info »
NA More info »
NA More info »
NA More info »
This one-bedroom, one bath is perfect for a busy professional! Living room has sliders to huge deck for outdoor living at its best. Nicely updated... More info »
Don't wait any longer to see this fresh and bright two-bedroom, one bath near Rotary Park and Williams Love Park! Store your belongings in the... More info »
NA More info »
Apt in 6-flat, 3-story walk-up More info »
NA More info »
SOLO PROGRAM-If potential prospect is a Veteran, individual may qualify for Veteran Housing Program. Applicant will pay a minimum of $300/month or... More info »
This 2 Bedroom apartment is on the 1st floor located at The Ponds complex. Tenant pays electric only! More info »
NA More info »
Great location surrounded by open space and close to everything! This one-bedroom, one-bath features vertical blinds, carpeting and is cable and... More info »
NA More info »
NA More info »
NA More info »
Showing
1-25
of
53
Next
»
Support CHAD
Please help provide affordable housing to more than 1,100 people each year.