How you can help
Please make a donation today and join CHAD in our quest to provide quality affordable housing.
Why give to CHAD?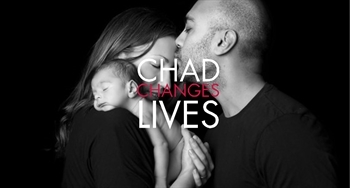 There are many compelling reasons why you should consider making a gift to CHAD. But, the most important reason of all is that: CHAD CHANGES LIVES!
There are many social service programs that help get people through the day; CHAD housing enables people to dream about tomorrow.

CHAD housing gives hardworking, critically important members of our community ….
A clean, safe and secure living environment;
A sense of stability and inclusion, along with better employment opportunities and access to community resources;
Improved educational options for children;
Relief from the high cost of housing so that other essential needs such as nutrition, healthcare and education can be realized; and
Hope for a better future!
CHAD has more than thirty years' experience in providing quality, affordable, long term rental housing on a scattered-site model to over 1,100 people in over 30 communities, primarily in DuPage and Kane counties in Illinois.
CHAD provides a greater degree of stability for individuals and families that would otherwise pay a higher portion of their income on housing and face an increased risk of homelessness and reliance on public services.
CHAD provides local businesses a more accessible labor pool to hire and retain employees in the markets they serve.
CHAD provides communities with increased vibrancy and vitality when it invests in returning foreclosed or vacant properties to full occupancy and helps to stabilize neighborhoods.
CHAD allows individuals to pursue their dreams and to share in our collective prosperity.
Why does CHAD need your financial support?
Your gift is extremely important to CHAD because it provides an immediate impact – the ability to give hardworking individuals and families a place to call home and the stability they need to realize their dreams. Please consider making as generous a gift as you can.
What is my gift specifically used for?
CHAD needs annual funding support to bridge the financial operating gap between the rental income it collects and the costs incurred to maintain its housing inventory. The revenue shortfall we incur by foregoing fair market rents is what we need to raise in order to cover our expenses. In addition, CHAD's inventory of over 405 housing units requires constant maintenance in order to provide a safe and attractive living environment. CHAD also needs to build its reserves to address any future building maintenance or life safety issues.
How your gift is spent
In our fiscal year, ended June 30, 2013, CHAD's expenses of $4, 595,372 were allocated as follows:
| | | |
| --- | --- | --- |
| EXPENSE | AMOUNT | PERCENTAGE |
| Program Services | $4,132,105 | 90% |
| Mangement & General | $337,931 | 7% |
| Fundraising | $125,336 | 3% |
| TOTAL | $4,595,372 | 100% |
Donate online or mail your gift to:
CHAD
Attention: W.B. Peterson, Resource Development Dept.
531 E. Roosevelt Road, Suite 200
Wheaton, IL 60187

Or, you can call us at 630.456.4452 and/or stop by our offices! We are always delighted to host a walk-through of our operations and rental units, and discuss your support.
Please consider leaving a legacy for Community Housing Advocacy and Development. If you are interested in making a planned gift or bequest, please contact William B. Peterson, Director of Fundraising, at (630) 456-4452 ext. 221.
Support CHAD
Please help provide affordable housing to more than 1,100 people each year.