CHAD partners with Mr. Handyman of Wheaton on National Day of Service & Remembrance
News release (Wednesday, December 4, 2013)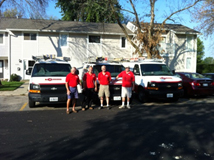 Wheaton, IL - Community Housing Advocacy & Development (CHAD) partnered with Mr. Handyman of Wheaton on September 11, 2013 in recognition of the National Day of Service & Remembrance that was established in 2009 by Congress as a charitable service day to honor 9/11 victims, survivors and the brave men and woman who gave service in the wake of the attacks. Mr. Handyman of Wheaton is a family owned and operated professional handyman service catering to local residential homeowners and businesses in Central and Northern DuPage County and surrounding communities.
Wayne Owczarzak, owner of Mr. Handyman of Wheaton, has been participating in the National Day of Service since its inception and selected CHAD as the 2013 nonprofit recipient of his company's services for the day. Mr. Owczarzak participated in the event, along with four of his technicians, Doug Hoefener, Scott Lorenz, Mike Scheffler and Larry Greathouse. They provided free maintenance services to CHAD at one of its affordable housing properties in Bartlett that was in need of some renovations and repairs, along with painting. CHAD provided the paint and materials to complete the project.

"We are thrilled that Mr. Handyman of Wheaton selected CHAD for their charitable donation of time and talent on this very meaningful day" said Brian Worth, Executive Director of CHAD. "Their professional work is not only appreciated by CHAD board and staff but also by the families that we support and whom rely upon us to provide quality affordable housing. "
Support CHAD
Please help provide affordable housing to more than 1,100 people each year.
Email updates
Join our list to receive announcements, news, and updates.