CHAD hires new Director of Fundraising
News release (Wednesday, December 4, 2013)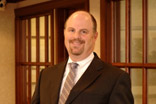 Wheaton, IL - Community Housing Advocacy & Development (CHAD) is pleased to announce that William B. Peterson has joined the organization as its Director of Fundraising. Mr. Peterson will be responsible for planning and implementing the organization's strategic fundraising plan while working closely with the Executive Director, Fundraising Committee and Board of Directors. He will also be responsible for donor and corporate relations responsibilities, including major gifts, grant funding and corporate sponsorships. In addition, Mr. Peterson will be responsible for providing increased visibility of the organization through community outreach and public affairs.
Mr. Peterson was most recently a Senior Vice President with Glen Ellyn Bank & Trust, a Wintrust community bank, where he served as a relationship manager and banking consultant to nonprofit organizations. He has also served in several volunteer leadership capacities as Chairman of the Village of Glen Ellyn Architectural Review Commission, Board President of the Glen Ellyn Historical Society, and, most recently, as Board President of the DuPage Senior Citizens Council. His involvement with fundraising for those nonprofit organizations spans over ten years. As Board President of the Glen Ellyn Historical Society, he presided over a three million dollar capital campaign for the purchase and development of land for the Glen Ellyn History Park. As Board President of the DuPage Senior Citizens Council, he presided over the planning and implementation of a strategic fundraising plan and in establishing a board development program. Mr. Peterson is a graduate of both St. Olaf College where he earned his Bachelor of Arts degree in Political Science, and the University of Notre Dame, where he earned his MBA. He is married and resides in Glen Ellyn.
"We are thrilled to have Bill join our team and welcome his broad level of experience in the nonprofit sector" said Brian Worth, Executive Director of CHAD. "His experience with initiating strategic fundraising plans, personally raising funds, working closely with nonprofit boards and staffs and having a network of contacts in the western suburbs to help open doors bodes well for what we are looking for to accomplish our financial objectives in pursuit of our mission at CHAD."
Support CHAD
Please help provide affordable housing to more than 1,100 people each year.
Email updates
Join our list to receive announcements, news, and updates.