CHAD holds inaugural Celebrity Bartender Fundraising Event
News release (Wednesday, December 4, 2013)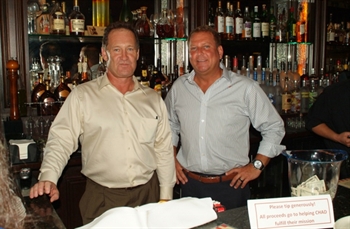 Wheaton, IL- Community Housing Advocacy & Development (CHAD) held its inaugural celebrity bartender fundraising event on Monday, August 12th at Il Poggiolo Ristorante in Hinsdale IL. The event featured retired Chicago Blackhawks goalie, Murray Bannerman, as guest bartender. Mr. Bannerman, alongside Brian Worth, Executive Director of CHAD, served beverages to invited guests, with proceeds of the bar sales donated to CHAD. A special drink, the "Cherry Dreamer" was dedicated to CHAD and available to guests on behalf of Grey Goose to coincide with the organization's "Dreams Live Here" theme. Aside from bar tab sales, the event also featured a silent auction, including artworks from local artist Adele Dunn. The event was co-sponsored by Peter and Dana Burdi of Hip Dining Group and Engage Creative, a Lombard-based integrated branding and marketing firm. Other sponsors included Grey Goose, Wirtz Beverage Group, Cine Modern Taqueria and Comcast.
"It was a great honor to bartend alongside Murray (Bannerman)", said Brian Worth, Executive Director. "Aside from his legendary career spanning seven seasons with the Blackhawks, his presence at our event helped to raise awareness about CHAD and the good works the organization does to provide affordable housing for individuals and families who are struggling to help themselves. " The two hour event raised funds to support operations.
Support CHAD
Please help provide affordable housing to more than 1,100 people each year.
Email updates
Join our list to receive announcements, news, and updates.