CHAD participates in the Giving DuPage 3rd Annual Human Race 5K Run/Fitness Walk
News release (Tuesday, April 29, 2014)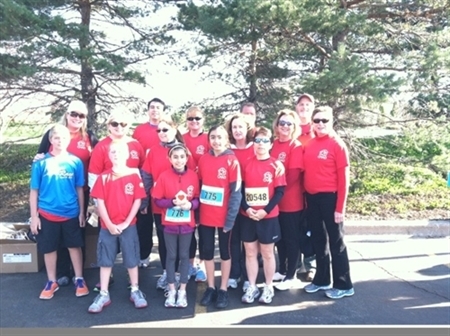 Above: "Team CHAD" members gather to show team spirit prior to the start of the race
Above: "Team CHAD" members gather to show team spirit prior to the start of the race
Wheaton, IL - Community Housing Advocacy & Development (CHAD) was one of over 50 nonprofit organizations participating in the Giving DuPage 3rd Annual Human Race 5k Run and Fitness Walk to help awareness about the non-profit organizations in DuPage County and provide the community with ways to connect and give back to local organizations. "Team CHAD" enlisted a group of 20 individuals, including board and staff members, CHAD residents, and supporters of the organization, to walk and run on behalf of CHAD. In addition, CHAD was able to raise additional funds from its supporters by establishing a team fundraising page.
"All in all, it was a great day to raise awareness of nonprofit organizations and CHAD", stated Brian Worth, Executive Director. "I am so proud of the group that walked and ran on our behalf.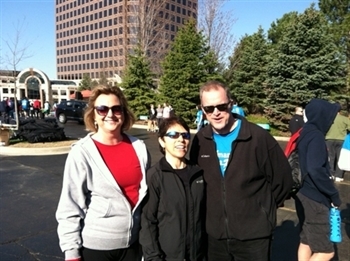 Above: Dan Cronin, DuPage County Board Chairman, poses with CHAD Board Members, Jan Baurle (left) and Nora Collins (center)
Many nonprofit organizations do not have sufficient resources to expend on this type of an event. We are thankful to Giving DuPage for arranging this race to benefit organizations such as CHAD. The money CHAD raises will used to further our mission in providing affordable housing for hardworking individuals and families."
Giving DuPage is a non-profit organization that serves to promote giving, increase volunteerism and provide resources within the DuPage non-profit network.
The Human Race® is an annual 5k Run/Fitness Walk community event bringing people together in support of over 50 charity non-profit organizations serving DuPage County. Walkers and runners designate a charity to receive the donation from their race registration fee, or can raise additional funds for their favorite cause.
Support CHAD
Please help provide affordable housing to more than 1,100 people each year.
Email updates
Join our list to receive announcements, news, and updates.