CHAD to benefit from CiOB's July event
News release (Monday, June 29, 2015)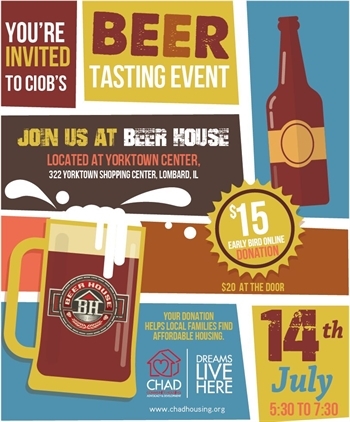 CHAD has been selected to be Connected in Oak Brook's fundraising beneficiary at its July beer tasting event. Join us at Beer House at Yorktown Shopping Center in Lombard, IL on July 14th from 5:30-7:30pm. $15 gains you admission ($20 at the door) and directly benefits CHAD programs and services.
Register in advance online at ciobnetwork.org (click the "register now" button in the left sidebar).
Beer House is a unique concept restaurant bringing over 60 taps and hundreds of bottled beers to one great venue. With an atmosphere catering to both the beer afficionado and those just looking to have a goot time, Beer House is a great place to drink the finest beers, enjoy live entertainment, catch sports on a giant screen, or just relax with friends.
CHAD is the largest non-profit provider of permanent affordable rental housing in Chicago's western suburbs. Through their properties, CHAD provides hardworking families and individuals with the ability to achieve their dreams by providing stable housing. CHAD also enables people to establish roots in the communities in which they live and work.
Connected in Oak Brook (CiOB) welcomes all LinkedIn members from Oak Brook and the surrounding west suburban areas. The group is committed to delivering programs that create value for all members to help them build their knowledge base and business. CiOB faciliates networking connections for members and the exchanging of ideas and resources to help build business.
Support CHAD
Please help provide affordable housing to more than 1,100 people each year.
Email updates
Join our list to receive announcements, news, and updates.