Research links affordable housing to children's test scores
News release (Sunday, April 12, 2015)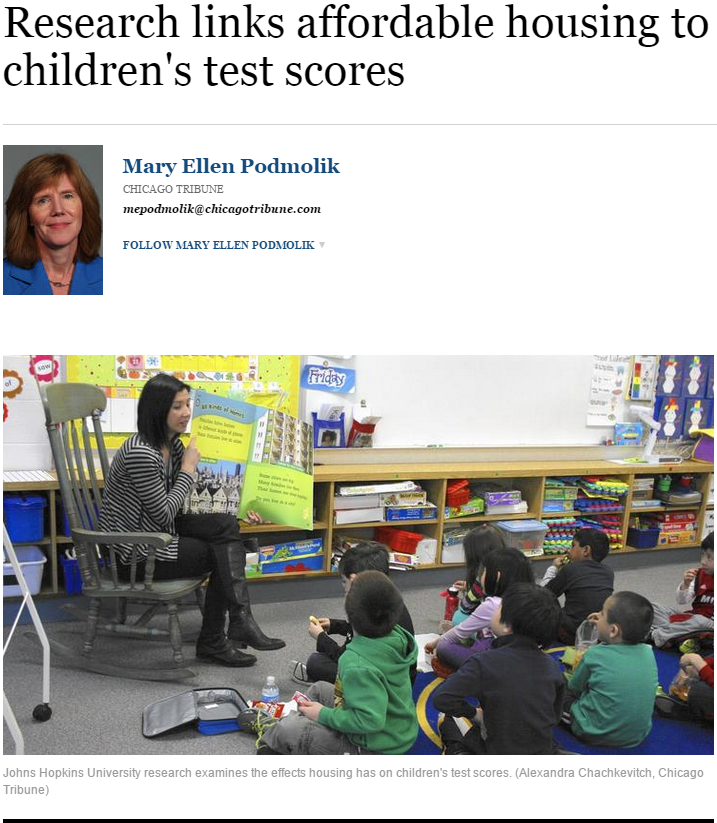 The conference was about affordable housing, but the keynote speech was about children and test scores and the role that housing plays in them.
The standard rule of thumb for any family, struggling or not, is to spend no more than 30 percent of household income on housing because otherwise it's a financial burden. But as it turns out, struggling, low-income families who spend far less than 30 percent have children with low test scores, and so do families who strap themselves financially and spend more than 30 percent.
The research finding, shared by a Johns Hopkins professor during Illinois' recent annual conference on affordable housing, comes as discussions about income inequality and rising housing costs grow louder across the nation.
Nationwide, from 2012 to 2013, wages increased 1.3 percent, compared with a 17 percent increase in home prices as the country bounced back from the housing crisis, according to an analysis by RealtyTrac. In the Chicago area, average weekly wages rose 3.1 percent in that two-year period while median home prices posted a 20.5 percent gain.
Meanwhile, the rate of rent increases has slowed, but average rents year over year in March rose 3.5 percent nationally and 2.7 percent in the Chicago area, according to real estate research firm Reis.
"Affordability, it's still the most important, most prevalent housing problem," said Sandra Newman, a professor at Johns Hopkins University. "We are honestly so much a part of the inequality discussion. We have to show how the housing unaffordability crisis is very connected to inequality."
Working with another researcher, Newman found that the percent of income a low-earning family spent on housing had a profound effect on a child's reading and math scores. Test scores suffered when families spent more than half their income on housing, or less than 20 percent of it. Newman theorizes that spending too little puts a family in a bad housing situation in a bad neighborhood, but spending too much forces households to make choices that affect family members, like spending less on computers or books.
In Newman's mind, those trade-offs and decisions that low-income families face have effects that will ripple from one generation to another.
"My argument on inequality is if housing affordability affects children, the next generation, and it puts them behind in terms of economic skill, that is going to perpetuate inequality for the next generation," Newman said. "That's the issue."
Newman's research was supported by the Chicago-based MacArthur Foundation, as is another study she is involved in that focuses on housing choices, neighborhoods and the challenge of finding affordable housing. Sitting in during interview sessions proved a sobering experience, she said, because educational choices weren't brought up by participants. They were focused on the characteristics of the home itself.
Finally, she recalled, researchers brought up the subject with participants. "The comment on the schools was 'I came up the hard way, she'll come up the hard way,'" Newman said. "It was one of those tough love kind of things. I don't know enough about those families to know what they've been through to have this reaction. That's down the list because survival is first."
Homes away from home. Mulling a second-home purchase this year? You may be helping continue a trend that began last year, when vacation-home sales rose above their most recent peak, in 2006. An estimated 1.13 million newly constructed and already-built vacation homes were sold in 2014, the highest since 2003, according to the National Association of Realtors.
Overall, vacation homes accounted for about one in every five sales last year. A little more than half of the properties sold were single-family homes, and second-home buyers were willing to drive a little farther (the median distance was 200 miles), and frequently looked for sand. About 40 percent of buyers picked a beach-area home, which may explain why only 14 percent of the homes sold were in the Midwest.
Twitter @mepodmolik
Copyright © 2015, Chicago Tribune
This story appeared in the Sunday, April 12, 2015 edition of the Chicago Tribune.
Support CHAD
Please help provide affordable housing to more than 1,100 people each year.
Email updates
Join our list to receive announcements, news, and updates.