CHAD hosts its 2nd Annual CHAD "Uncorked" Wine Tasting & Benefit Auction
News release (Monday, November 24, 2014)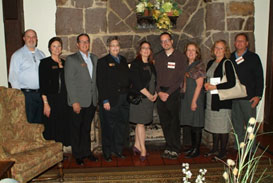 Wheaton, IL – Community Housing Advocacy & Development (CHAD) hosted its 2nd Annual CHAD "Uncorked" Wine Tasting and Benefit Auction on Friday, November 7th at the Katherine Legge Memorial Lodge in Hinsdale, IL. The event, which featured a delightful evening of hors d'oeuvres and special wine tastings, accompanied by a silent auction, raffles and entertainment, was attended by over 125 guests for the sole purpose of raising funds for CHAD to continue its mission of developing, owning and managing quality affordable rental housing opportunities at below market rents to individuals and families struggling to support themselves.
"The overwhelming support by our guests, sponsors, and volunteers at this event is testament to the good work that CHAD does to satisfy the affordable housing needs of the many hard working individuals and families that are the backbone of our communities" stated Brian Worth, Executive Director. "It is our hope that this signature event will continue to grow and create greater awareness of the need for affordable housing in one of the highest per capita income areas in the state."
Funds raised at the event will be used for operational support, including, but not limited to, ongoing maintenance of CHAD's inventory of over four hundred affordable housing units so that it may continue to provide a safe and quality living environment for its residents.
Support CHAD
Please help provide affordable housing to more than 1,100 people each year.
Email updates
Join our list to receive announcements, news, and updates.